Pizza Sauce, Alfredo
1/2 small sweet onion, chopped fine
2 cloves garlic, pressed
1 Tbs fresh flat-leaf parsley, chopped fine
2 Tbs butter
2 Tbs all-purpose flour
1 cup milk (whole or reduced fat)
1/2 cup of grated, high-quality parmesean cheese
grating of nutmeg
Sweat the onion, garlic, and parsley in the butter until the onions are clear. Don't burn the garlic! Add the flour and whisk well to mix with the flour. Let this cook for about a minute, but do not brown it. Add the milk and whisk. Slowly bring the mixture to a boil - it won't thicken until it boils, so be patient! As soon as it boils, remove from heat, add the cheese and the nutmeg, and stir well.
When the sauce cools, pour it into Ball jars or pouring cups, and store in the fridge until ready to use - about a day or so. Warm the sauce slowly before putting it on the pizza, but do not boil it again.

Our great, good friend, Jess, LOVES to eat; and he loves to eat nothing more than one of our grilled pizzas. In this photo, he has his eye on our Grilled Whole-wheat Pizza topped with Alfredo Sauce, carmelized onions and eggplant, and feta cheese. We think you'd better make your own, though, 'cause it doesn't look like Jess is going to share!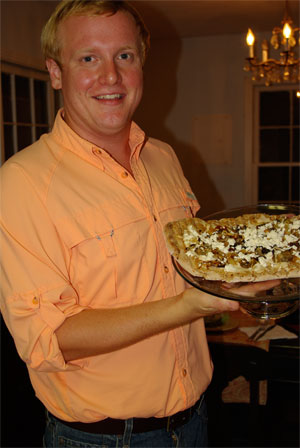 Topping Ideas: Pizza Alfredo
Carmelized onion, roasted eggplant rounds, feta cheese
Cajun grilled shrimp, arugula, sliced green onion, with parmesean shavings
Sliced veal meatballs, fresh spinich, eggplant, ricotta cheese
Southwest-seasoned sliced chicken, sun-dried tomatoes, pepperjack and feta cheese
Shitake mushrooms, sliced green onion, pickled ginger, and asiago cheese shavings
Prosciutto, carmelized onion, chopped walnuts, brie