Grilled Eggplant
When you reach those hot, "dog days" of late summer, and every gardener you know is trying to sneak eggplant and zucchini into your mailbox or backseat, it's time to bring out the ultimate weapon: The Girls on a Grill Grilled Eggplant (or zucchini!) recipe!
This one is easy and fast, and makes a side dish that even persnickety eaters will go for. You start with about a pound of eggplant - one medium-to-large Italian eggplant, or four-to-five of our favorite Ichibans. Clean the Italian eggplant, and slice it into long, vertical strips, about 1/2 - 3/4 inch wide. The Ichibans you prep into fans, as shown in the photos.
Marinade/Grill Sauce:
1/4 c good olive oil
2 Tbs balsamic vinegar
pinch of oregano
1/2 tsp cumin
1/4 tsp tumeric
1/2 tsp white pepper
1/2 tsp Kosher salt
1/2 tsp honey
fresh mint chiffinade for garnish
Combine all ingredients in a shaker bottle, or bowl, shake or whisk to combine. Brush on prepped eggplant, and let set for about 2 hours, re-applying periodically and carefully brushing between slices.
Grill over a medium/hot fire for about 3 mins per side, flipping only once, and brushing with the marinade. Remove to your serving platter and garnish with fresh mint.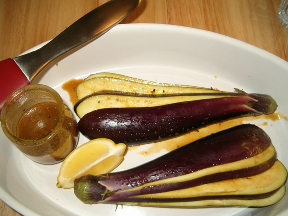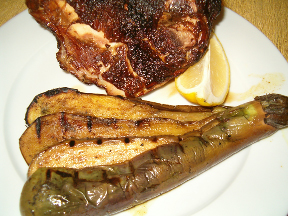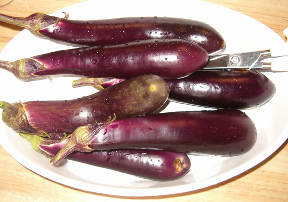 Our eggplant choice for this dish is a long, lean variety named "Ichiban." We can't always find it in stores, so have taken to growing our own.
We prep it by slicing it lengthwise into halves, then slice each half again lengthwise, to form a four-part fan. This increases the surface area to soak up the marinade, and shortens the cooking time.
Note that the brilliant purple skin turned green during roasting. This side dish is great with any Mediterranean-style entre.